All Hands on Deck
December 21, 2021
|
|
Many hands and hearts came together to help bring hope and joy to patients and families at the Northwestern Medicine Delnor, Warrenville and Kishwaukee Hospital Cancer Centers.
It all started when Pastor Kim Neace at Baker Memorial United Methodist Church in St. Charles, Ill., noticed a "helping hands" art project that LivingWell Art Instructor Cheri Hunt was doing in her classes. She invited Hunt to teach this class to attendees at one of the church's monthly Faith, Food & Fun nights. On these nights, anyone from the community is invited to gather for dinner and take part in a fun activity. During her activity night, Hunt had all dinner guests trace their hands on a blank piece of paper and showed them how to use techniques like "Zentangle" and "Zendoodle" to turn the blank hands into works of art. The budding artists were also asked to add inspirational messages to their pieces and leave their finished products in the hands of Pastor Neace.
Pastor Neace then delivered the stack of art to Mid-Valley Special Education Cooperative in St. Charles, Ill., where students cut the traced hands to practice fine motor skills. She also invited some church parishioners to do some cutting. Next, the decorated and carefully cut hands were given back to Hunt at LivingWell. Hunt packed her pieces on her art cart and brought them with her to Northwestern Medicine Delnor, Warrenville and Kishwaukee Hospital Cancer Centers where she does chairside art sessions with patients in infusion rooms to help them relax during cancer treatment. She gave them out to all of the patients she saw to let them know that so many community members were thinking about them during their cancer journey. She also hung some helping hands in the entrance windows at two of the cancer centers so anyone walking by got a positive message.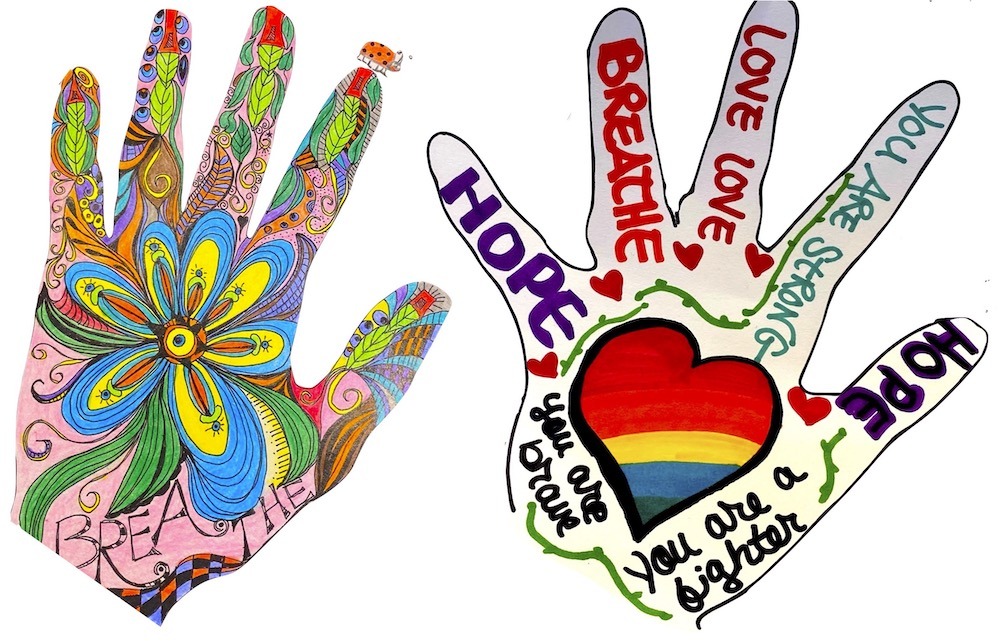 "I started the 'helping hands' project during COVID when caregivers were not allowed to have visitors. I wanted patients to know that the community really cares," explained Hunt. "Some patients use the hands as bookmarks, so every time they open their book, they get a little ray of sunshine. I love this project and how it brings so many people together."
Want to create a helping hand for a patient undergoing cancer treatment or for a loved one in your own family? Watch Cheri Hunt's instructional video that she filmed at the beginning of her project in January 2021.